The Marc-Philipp Gemballa Marsien is a wonderful thing; that rare combination of modern Engineering, retro design and a laser-guided attitude to detail. It's a two-finger salute to a car industry that some would say is becoming increasingly homogeneous.
It's also, based on recent legal proceedings, not a Gemballa at all. But it is. Sort of.
So who are Gemballa? What do they do? And what the hell does the Marsien have to do with anything?
Well that's what we're here to explain…
Uwe the top
Gemballa was founded by Uwe Gemballa in 1981 in Germany's automotive heartland; Stuttgart. Or rather in Leonberg, just outside the city.
Home to Porsche, amongst other world-renowned car-makers, Gemballa Automobiltechnik (Gmbh) was established when Uwe was in his mid-twenties, his history prior to that very much under-wraps (seriously, Google Uwe Gemballa and see what you get). The remit of the company, as far as we can see, was to offer upgrades to cars that went far beyond a simple re-tune.
Focussing on wealthy, oft-eccentric clientele, the early years were dominated by one-off custom works for Porsche & Mercedes-Benz owners. But in 1984, things got a little bit tastier when Gemballa offered a limited run version of the Mercedes-Benz C126 500 SEC in Widebody design.
It was the widest of all the '80s 500 SEC Widebodys, with sheet metal used for all replacement body panels; quality was the priority. The interior saw brand new Recaro seats fitted, along with similar ones in the rear and a raft of lavish carpet and trim upgrades.
The colour schemes weren't for everyone, and neither was Its performance. If anything, this car was an embodiment of everything '80s. Yet Gemballa were just getting started.
1985 brought two rather more eccentric conversions to the world's attention, the Gemballa BMW 635CSi… and the Gemballa Avalanche.
The former, in near-Canary yellow form, was purchased by someone in the UAE and was later discovered in the palace of Uday Hussein, one of Saddam Hussein's two sons.
With bodywork more-representative of what would soon become a Gemballa signature, featuring hugely inflated rear arches, aggressive intakes, new lights and bumpers – front and back – and a lavishly revamped interior, it was everything the BMW wasn't; extravagant, unapologetic to the point of garishness, it was a car for standing out, for drawing attention. But it was nothing in comparison to the Avalanche.
"Mainstream"
There is nothing about Gemballa, past or present, that's mainstream, let's be clear about that.
However, with the launch of the Avalanche, an evolution – if we can call it that – of the Porsche 930 Flachbau (Flatnose), already an evolution of the Porsche 911 Turbo, and a production run that produced 15 of the beasts, Gemballa had announced themselves on the world stage.
Though they also produced the Cyrrus, a non-turbo convertible variant, it was the $500,000 (more than $1 million in modern money) Avalanche, with it's huge rear haunches, wild intakes and aggressive rear wing that stole the hearts and minds of the ultra-wealthy.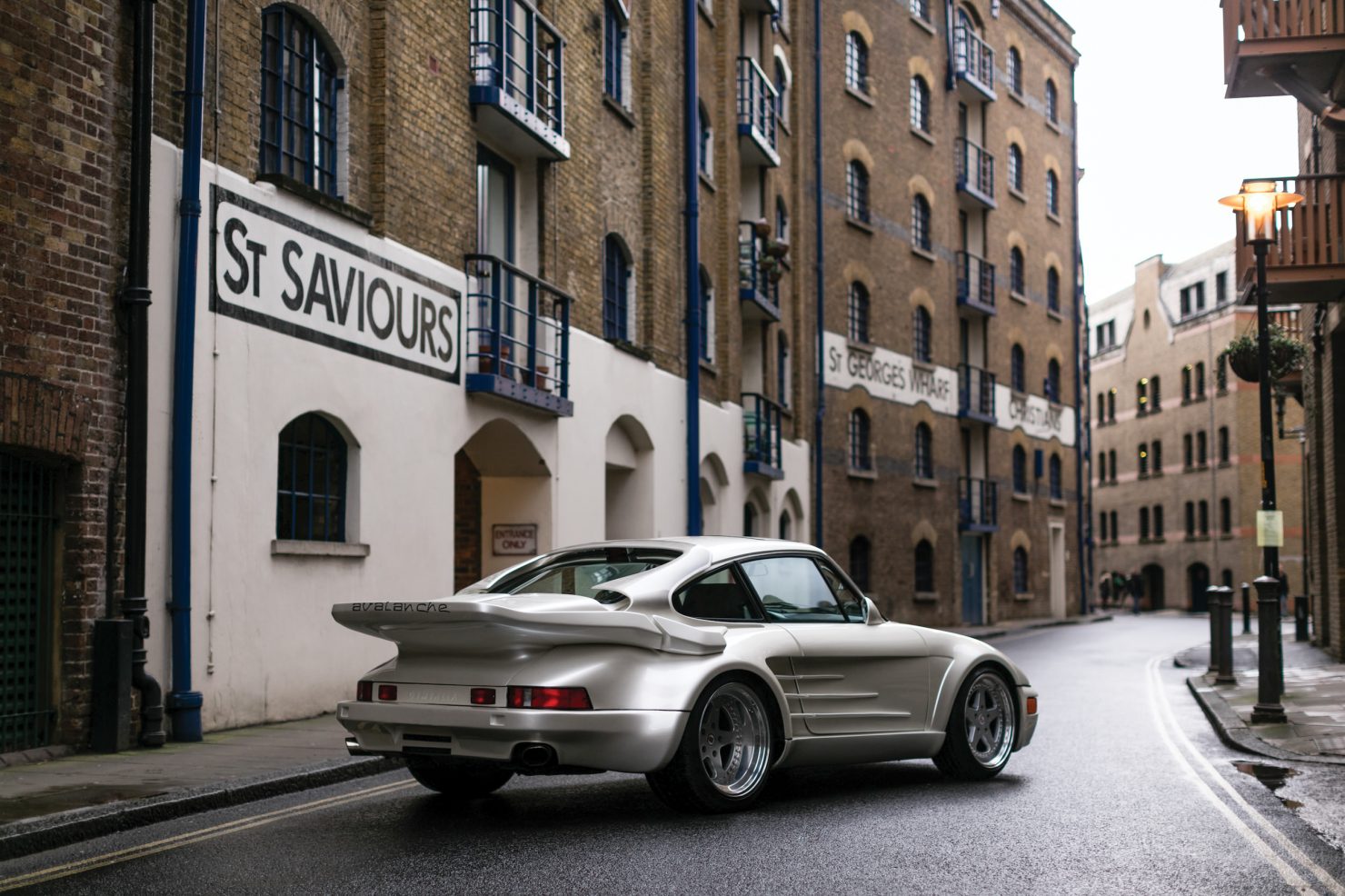 Gemballa's focus on aesthetics – outsourcing most of the mechanical upgrades to the legendary Porsche tuners RUF – allowed them to focus not only on eccentric body kits and entire conversions, but also technology upgrades.
It was Gemballa who first replaced exterior mirrors with rearward-facing cameras, proposing the technology in 1986 and linking them to interior television screens.
By the end of the '80s, Gemballa were designing in-vehicle fax machines, bespoke multimedia systems and upgraded air-con systems amongst many other innovations demanded by their wealthy clientele.
To avoid pigeon-holing, however, they simulatenously produced several aerodynamic packages for the Porsche 964-generation 911. And then went several steps further…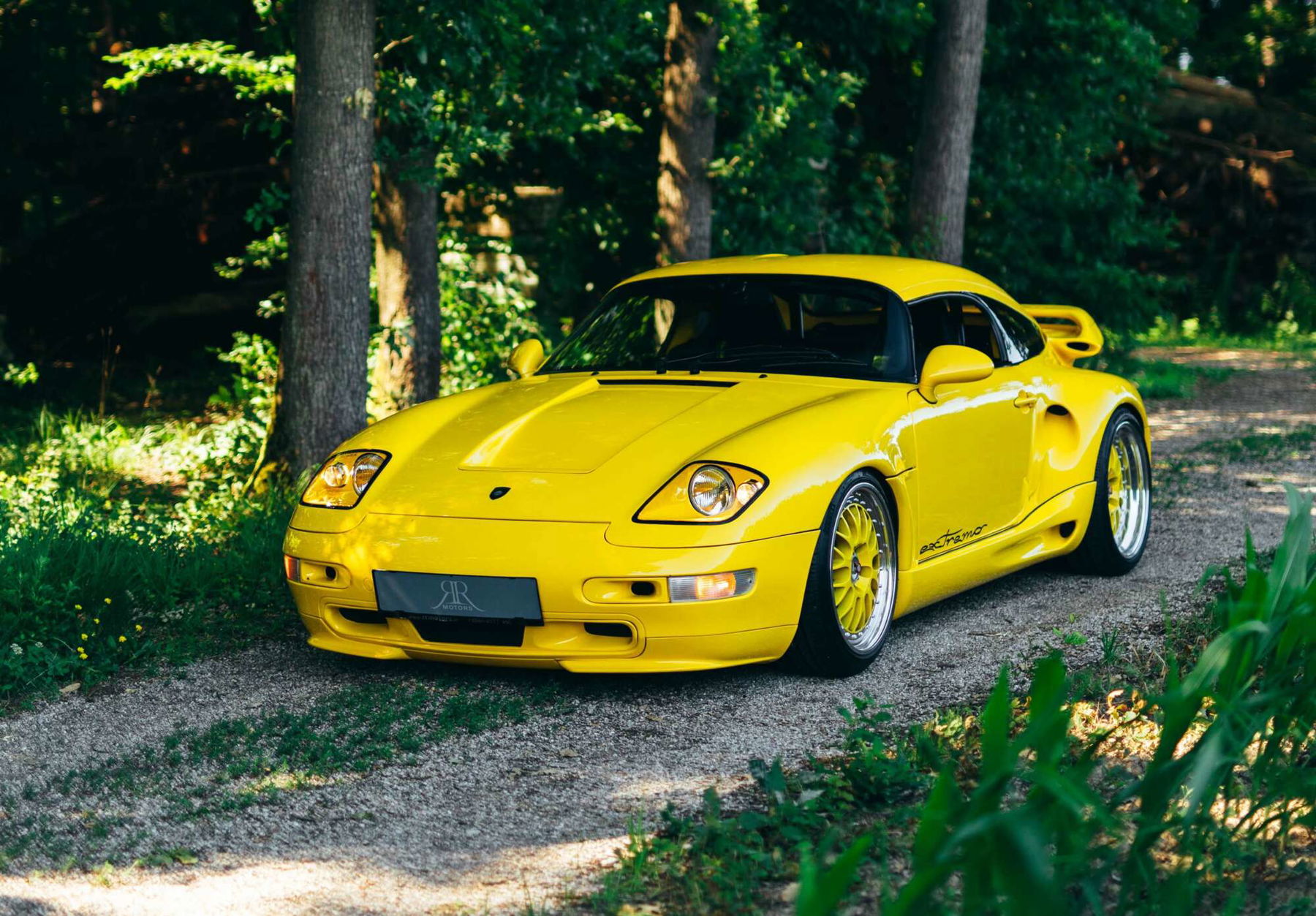 Extremo
In 1996, Gemballa launched the Extremo, which was everything the name suggests.
Planned as a one-off, it was a heavily upgraded 993 Convertible that would act as an eccentric piece of promotional material both for Gemballa themselves and tyre-manufacturer Fulda; until Gemballa decided to cash in on the success of the 1 million Deutschmarks car with a second variant, the only 993 Speedster ever created.
Using, once again, a colour scheme not for the faint hearted, the Extremo Speedster boasted 600hp from its custom 3.8l twin-turbo engine and the added practicality of a roof that the original certainly didn't have, as evidenced by this promotional video.
And the bi-turbo engine they'd proudly developed in-house would soon find its way into all manner of other Gemballa offerings.
In the late '90s, Gemballa were proliferating, taking advantage of their burgeoning reputation to offer both practical and…ahem… more lavish variations of the same theme, including a rather wild Lamborghini Diablo.
There were engine upgrades and complete vehicle conversions offered for the newly arrived Porsche Boxster, plus offerings for 993 911s and the newly arrived 996 911 in 1997.
In 1999, Gemballa offered a taster of what was to come for the 996 with the Gemballa GTR. But all eyes, as always, were on what the Leonberg-based firm had in store for the 996 GT3; and they didn't disappoint.
Yellow Submarine
And by Submarine, I mean the nuclear-powered, vanguard-class type submarine that, almost literally, blows anything out of the water.
This is the Gemballa GTR 600-R, a 600bhp Bi-turbo monster that has repeatedly held Nürburgring lap records for Porsche vehicles. Based on the Porsche 996 GT3, it's everything we would now associate with a modern 911 GT3, created back in the day when the GT3 was an upgrade package as opposed to a thorough-bred, race derived supercar we now know and love.
In fact you could argue that Gemballa's treatment of Porsche 911s is a reason we are blessed with GT2 & GT3 variants today.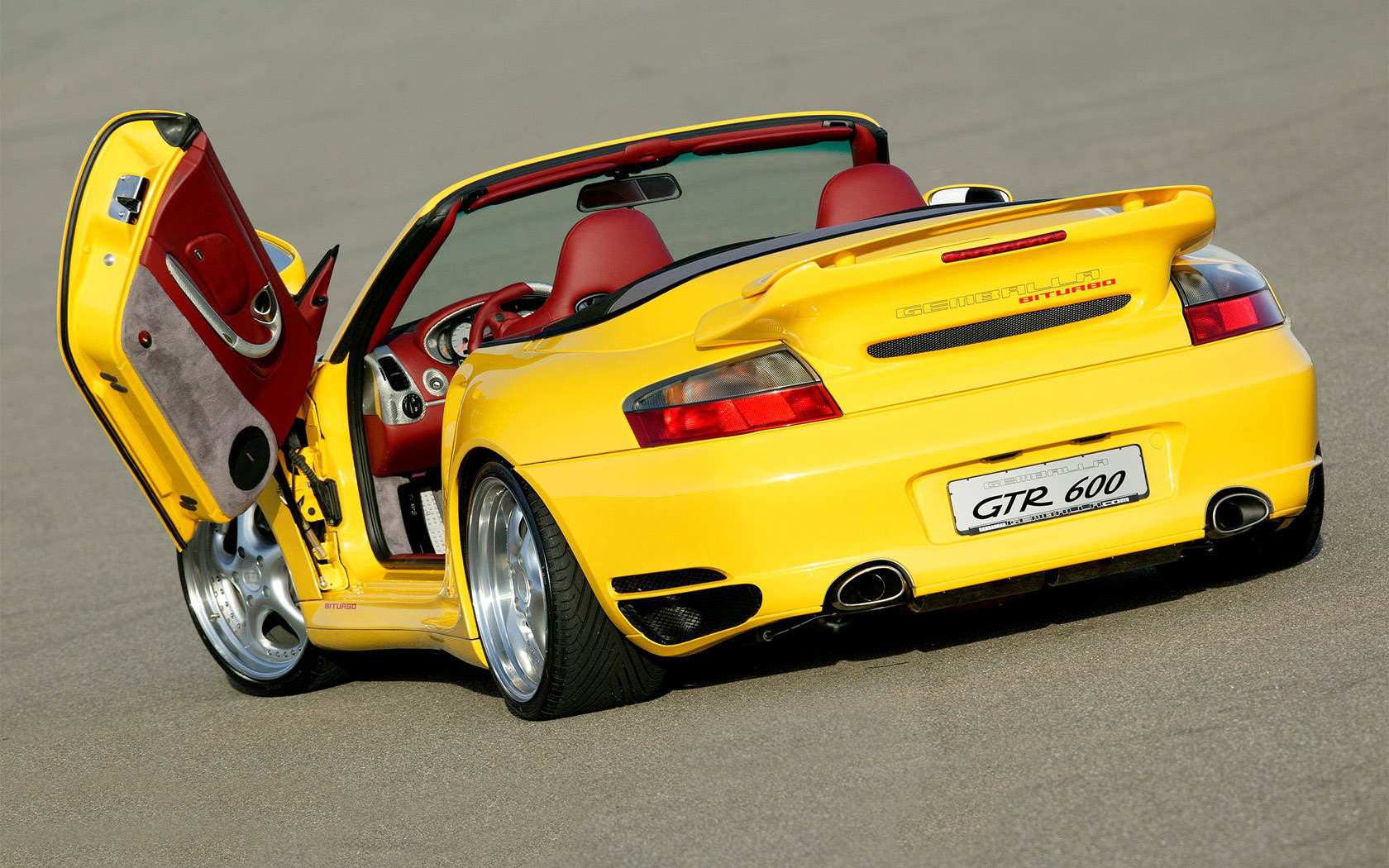 The difference with Gemballa's treatment, however, was that their pursuit of improvements was never limited to performance; air-conditioning was upgraded, new lavish material options were included on the seats and interior surfaces, all-the-while pushing the performance envelops of the car itself.
And this would be displayed in perfect clarity when, in 2003, just a year into the launch of the Porsche Cayenne, Gemballa branched out into a brand new segment, testing themselves in a class of vehicle where aggressive design and high-speed performance were so low down the list of priorities as to be forgotten entirely.
It was called ther Aero III; and is still one of the most popular Gemballa vehicles ever created.
The Perfect Fit
Gemballa now had a reputation for eccentricity, decadence and outrageous performance, but even when they branched out from Porsche, their remit had always been sports cars and supercars. But Porsche's introduction of the Cayenne proved too tempting.
Under the hood, tuning efforts eventually wrought 750hp from the now-famous twin-turbo engine, hence the raft of front air intakes, and the exterior bodywork, though lacking huge rear wings and wheel-arch flares, was still largely custom.
But it was inside where Gemballa really upped the ante.
Thanks to their experience with demading Middle-Eastern clients, they were in a position to offer head-rest mounted video screens, a DVD changer, custom leather wrapping, stitching and logos, cooling boxes, carbon-fibre finishing, safety boxes, velour carpets… the list was near endless.
The Aero III was the car for someone who wanted everything.
It was also for people with very specific taste and a rather large wallet, a full-specced variant reaching roughly $650k in modern money.
But you were getting a car that could carry the two kids, their bikes and your champagne in supreme comfort. A car that reached 200mph but could waft along the winding roads of central Europe effortlessly. Alright, the ride was a little stiff, but still…
The Gemballa Aero III embodies Gemballa more than possibly anything else; if you have the money, you can have it all. But it's not to everyone's taste.
2005 saw Gemballa introduce the GTR 650 Avalanche, a turbocharged Porsche 997 Carrera S that would go on to be one of the fastest Gemballas ever produced. But the Leonberg marque already had their eyes on something even more special following the launch, in 2004, of the Porsche Carrera GT.
Mirage
No, it's not a mirage. It's a Mirage GT; the Gemballa Mirage GT. For those who think the Porsche Carrera GT is a little slow, too subdued; not extravagant enough…
Though the Mirage GT went viral a few years ago when millionaire Benjamin Chen, charged with being under the influence of drugs, went all "Wolf of Wall Street" and careened his 2014 Mirage GT around the streets of New York, crashing into an MPV at who-knows-what speed before attempting to drive away, for any avid car fan it's a holy grail of a car.
The Carrera GT is already an exceptional supercar, and a rare one, but the Mirage GT is that little bit more exclusive, that extra shot of espresso you didn't think you needed.
Unlike most of its stable-mates, the Mirage GT remained naturally aspirated, Gemballa preferring to play with the exhaust system, inlet manifold and ECU map to boost power by 60hp to 670hp because… well, why not?
Exterior features were added, though remain somewhat subtle for a Gemballa rework, but the interior is as lavish and bright as you'd expect, with all manner of colourful additions, lavish material choices and added features.
Only 25 were ever made, most of them targeted at either the US or the Middle-Eastern markets because buyers in these regions tend to prefer the eccentricities that Gemballa do so well. And yet the Mirage GT is simulatenously a rather measured car, a boundary-pushing refinement of an already wonderful vehicle.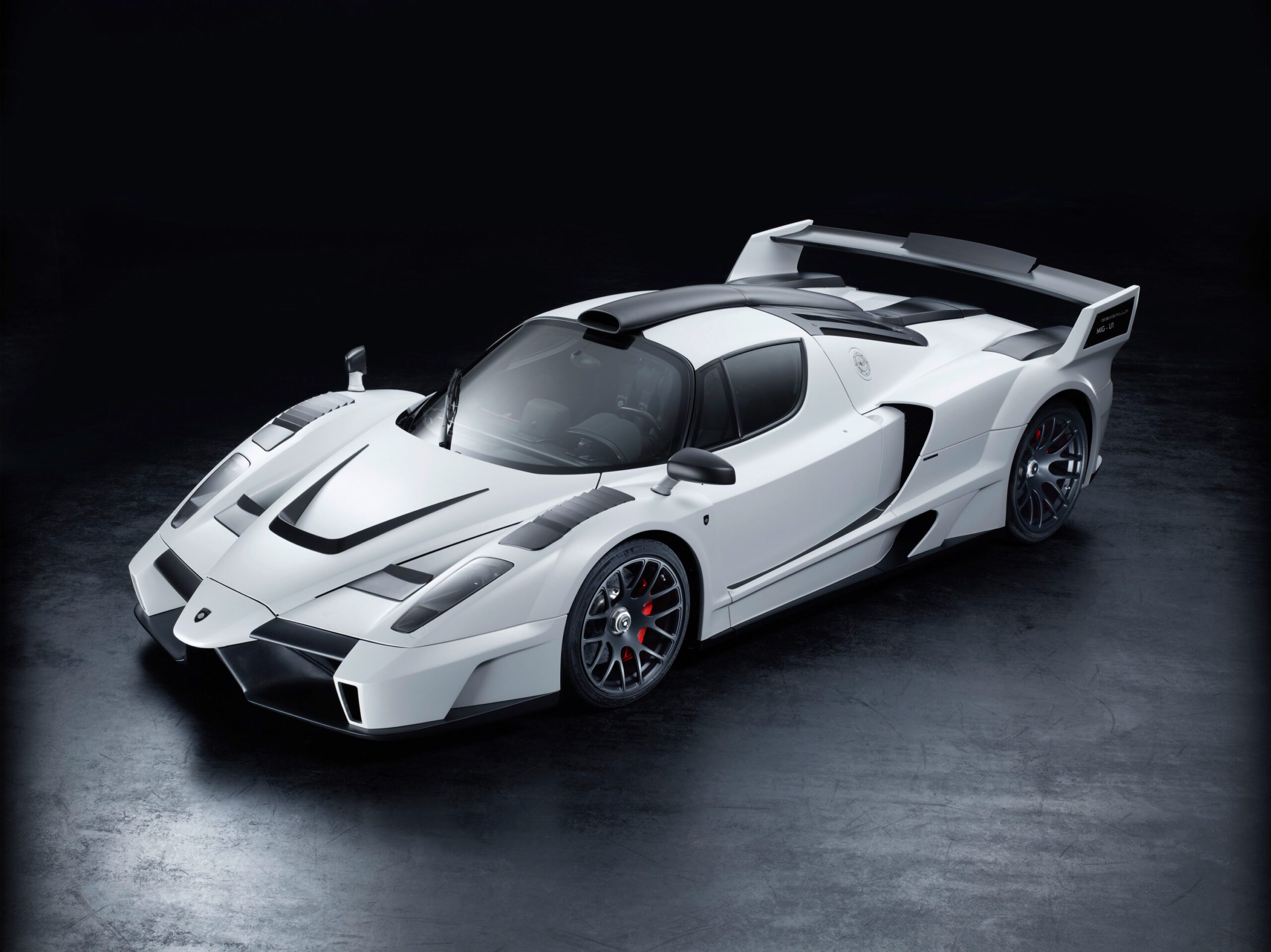 MIG
As if sullied by the subtlety of the Mirage, Gemballa then decided to turn its attention to the Ferrari Enzo, the ultimate hypercar. And in doing so, completely divide the automotive community.
For so many, the Ferrari Enzo is the ultimate hypercar, a fighter jet-esque mid-engined monster that constantly tries to wriggle from your grasp, usually in third gear as you exit a corner at 120mph.
For quite a few others, it was a step away from the usual Ferrari design, a rugged, chisel-featured car that epitomises everything Ferrari do so well. A supremely-balanced hypercar perched right at the very top of the automotive tree.
Gemballa, however, had other ideas.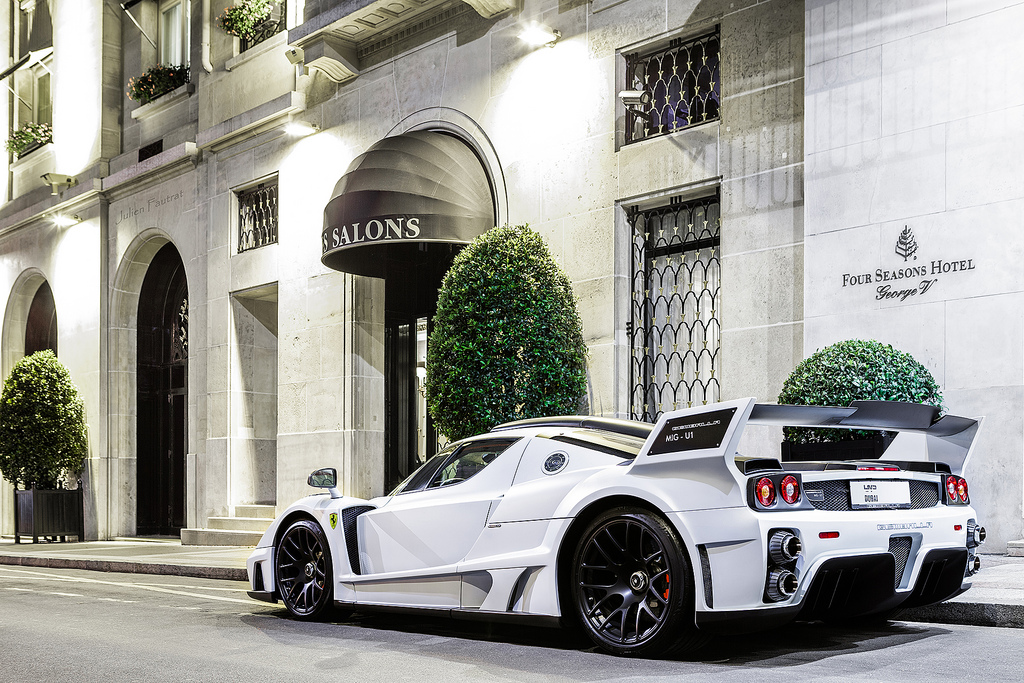 Or rather the founders of the Ilyas & Mustafa Galadari Group had other ideas, hence the name MIG-U1.
Though production of the Enzo, which was originally limited to 399, eventually reached 493 vehicles, Gemballa's initial production run of the MIG-U1 was limited to just 25 and only 5 were ever made; you needed a Ferrari Enzo to begin with… and a very specific taste.
Modifications included a few exterior tweaks (PAH!), a new exhaust and engine management system to up the power output to 700hp, a host of infotainment updates and all manner of new trim materials and finishes; just another Gemballa conversion, really.
Whatever your taste, there's no doubting that the MIG-U1 is an exceedingly rare, opinion-dividing hypercar that genuinely delivers on its visuals. Not many cars do that.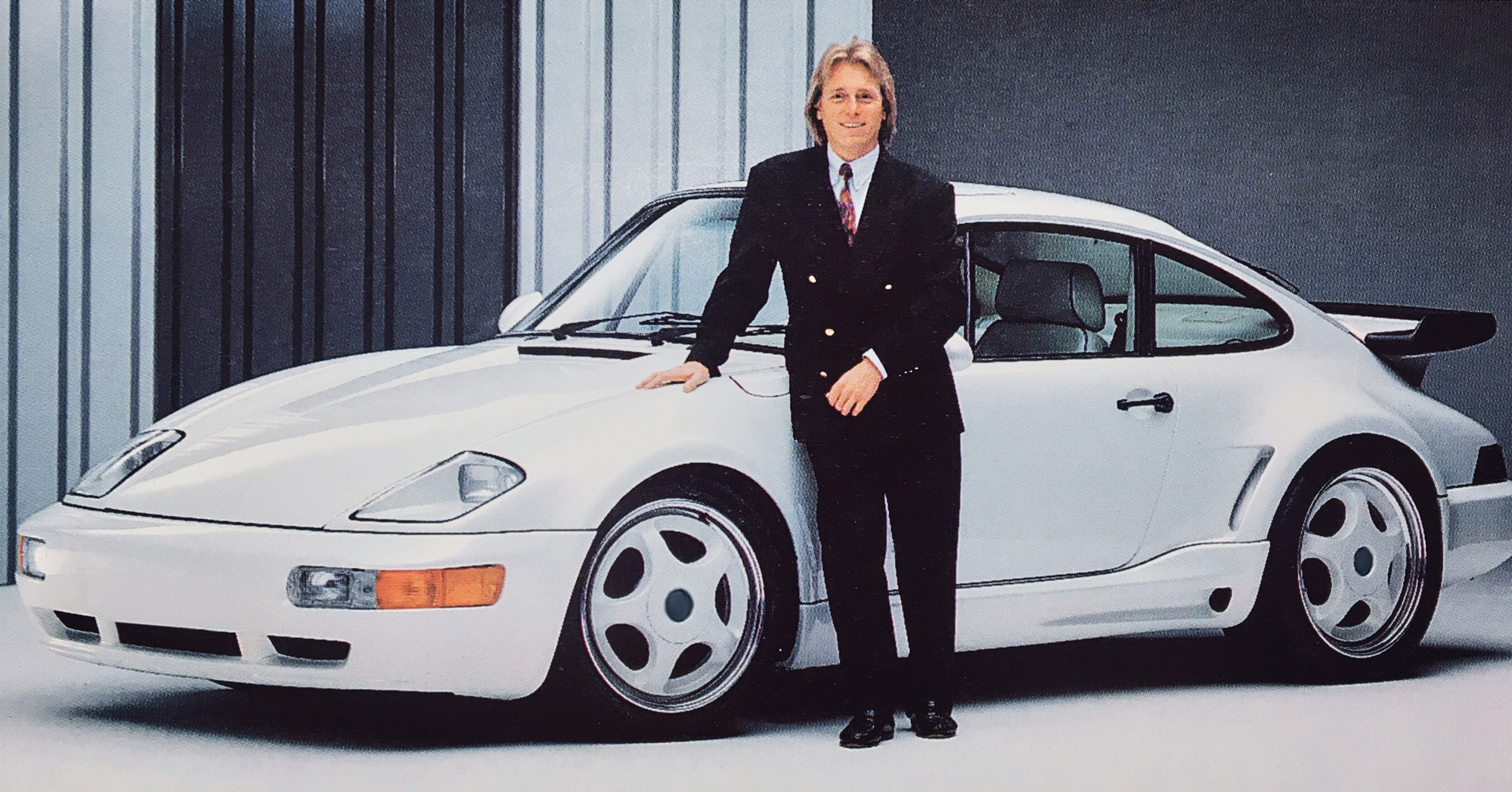 Tragedy
And then, from nowhere, with Gemballa riding high, disaster struck.
In February 2010, Uwe Gemballa went missing, only a few weeks after the dramatic release of the MIG-U1. Throughout 2010, suspicion was rife as to his whereabouts until, in early October, Uwe Gemballa's body was found in South Africa. His body was found wrapped in plastic with his hands tied behind his back. He'd been shot in the head.
Though very little was / is known about Uwe Gemballa, the manner surrounding his disappearance and death shook the automotive world. The assets of the company were sold to a former exec named Andreas Schwarz, who took control and tried to steer the ship during the incredibly turbulent waters of 2010.
But the loss of the founder, and his visionary approach, would take a while to overcome.
Modern Day
In 2011, Gemballa expanded their range with the addition of two special models to celebrate their 30th anniversary; the Porsche Cayenne Turbo-based TORNADO "30th Anniversary" and the MISTRALE "30th Anniversary", based on the Porsche Panamera.
But just a year later, Gemballa were expanding their boundaries once again, this time by announcing a collaboration with the English / New Zealand marque McLaren.
The Gemballa GT is another somewhat subtle product from the Leonberg-marque, with modifications limited to exterior aerodynamic tweaks for stability, new wheels and some additional interior material choices.
Though the GT Spider debuted just a year later, again in the form of a McLaren MP4-12C Spider upgrade, the majority of Gemballa's work in the following years focussed on aerodynamic packages for Porsche models and extravagant modifications to the Panamera and Cayenne models.
Until 2018, when Gemballa took the covers off an idea that, a year later, would debut as the goosebump-generating Gemballa GTR 8XX EVO-R.
During the 2010s, Porsche certainly ramped up their derivitisation of the 911 range in particular, with GT2 & GT3 variants stimulating huge smiles and fits of daydreaming. Gemballa, who for so long had been the go-to marque for such hair-splitting variants, needed to to up their game.
And boy did they.
The Porsche 911 (991) Turbo-derived Gemballa GTR 8XX EVO-R is as insane as it looks.
But it's also, in typical Gemballa fashion, just a "package", which actually means a complete rework of the vehicle inside and out, up and down and both ways round. There's no scrimping or saving here.
There's a wider track, and therefore brand new body panels to accommodate the geometric changes, plus a suite of aerodynamic upgrades; under the "hood" (well it's a Porsche, so is it a trunk? Or a boot?) there's new intake manifolds, turbos, piping, a new exhaust system, reworked cylinder heads and valves, new throttle bodies and a reprogrammed ECU to coax a mind-numbing 808hp from the twin-turbo 3.8L flat six engine.
Inside, there's new materials, new bucket seats, all manner of embrodiery and luxury finishes; in a car that reaches 0 to 62 mph in just 2.38 seconds and 0 to 125 mph in 7.5 seconds. Yep, I know…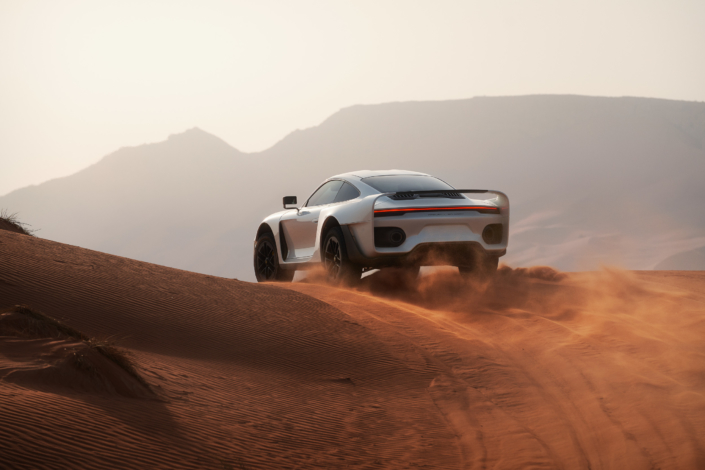 Mars Landing
So, where does the Marsien sit in all of this? Well nowhere, according to recent legal proceedings in both Stuttgart and Cologne.
First, the facts; the Marsien is the vision of Marc-Philipp Gemballa, the son of Gemballa Automobiltechnik (Gmbh) founder Uwe Gemballa, though Marc-Philipp himself has absolutely nothing to do with the company that his late father founded.
MARC PHILIPP GEMBALLA GmbH obviously uses his father's (and his own!) surname in the title, therefore creating the potential for confusion. What happens next could be very interesting. But we don't want to focus on that here.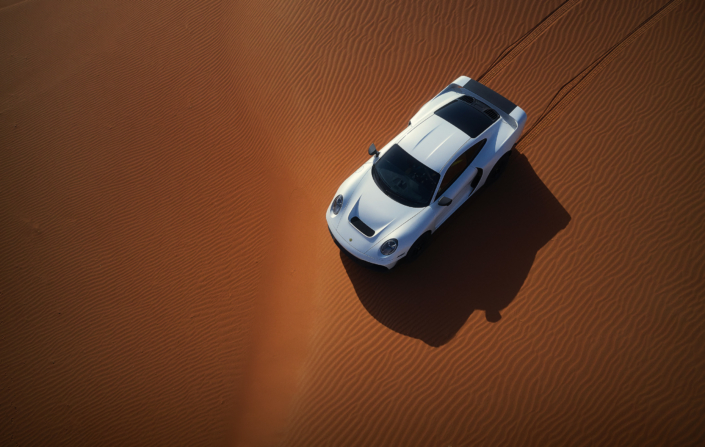 What we want to do is finish as we started, with an appreciation of all things Car, Porsche and Automotive Design.
And the Marsien is brilliant.
If you didn't know, its a modern interpretation of the Porsche 959 Paris-Dakar racecar. A car that was originally designed for Group B rallying but, after the abandonment of the classification following a raft of incidents, went on to win the Paris-Dakar rally in 1986; it's an iconic piece of Porsche, and motorsport, history.
And perhaps that's why the Marsien has generated such a response. Or maybe it's the elegance of the design, the flared arches and rear wing boat-tailing perfectly with the Porsche (992) 911 features upon which it's based. Or maybe it's because, in its own right, it's a wonderful piece of automotive design that future generations will stick to their walls; if that's still a thing.
One thing's for sure; Gemballa is not going anywhere. And neither is the Marsien.
***
Well we hoped you enjoyed our insight into the history of Gemballa Automobiltechnik (Gmbh) as much as we enjoyed writing it. Don't forget to sign up below to avoid missing out on all the past, current, and future content that CLT has in store!